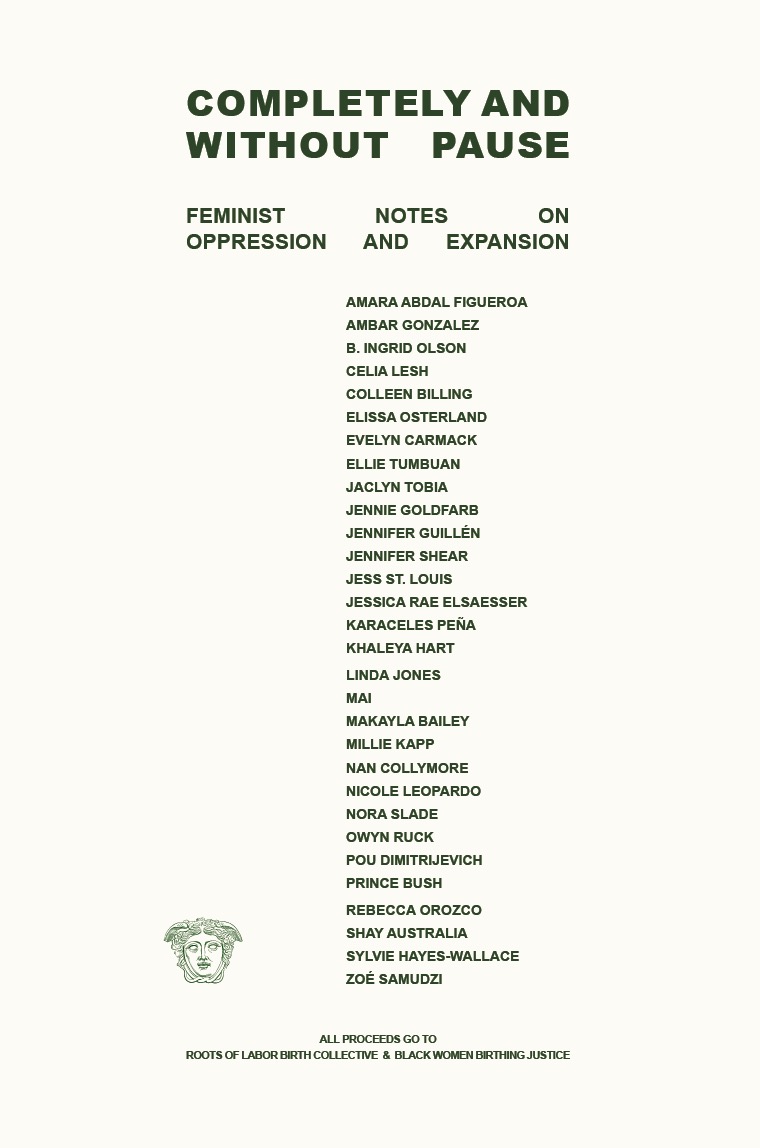 Visit completelyandwithoutpause.com to purchase the publication and donate.
The dichotomy between the spiritual and the political is also false. - Audre Lorde
This publication attempts to do three things: (a) move resources to Roots of Labor Birth Collective and Black Women Birthing Justice, two birthing justice organizations in the Bay Area (b) center the voices and experiences of women of color, trans and nonbinary folks of color, and the collective urgency of dismantling white systems of oppression, and (c) bring a myriad of people together to share ideas about healing, power, and liberation.
The people featured in Completely and Without Pause are close friends, acquaintances, and strangers. They are all committed to destroying the ways in which oppression occupies our hearts, minds, and bodies. Specifically, these contributors are expanding, challenging, holding, and caressing feminine and feminist consciousness and its relationship to receptivity, politicized healing, and transformation. It's a heart-centered pause and inconclusive deliberately as a technique. It's about the feminine as the sacred duty of humanizing, as an energy and a commitment, not as a gender. It's about reparations, as in money, as in using money as medicine, and repairing our relationship to ourselves and the earth.
100% of the proceeds from this project go to Roots of Labor Birth Collective & Black Women Birthing Justice.
Edited by Jennie Goldfarb
Designed by Jen Shear | jenshear.com
SUPPORT ROOTS OF LABOR BIRTH COLLECTIVE
Out of print. Visit completelyandwithoutpause.com.
This series of newsletters, originally distributed through email, began in order to share writings and resources rooted in the interconnected relationships between racial justice and personal and collective transformation, specifically highlighting the work of women of color and the urgency of dismantling white systems of oppression. This printed version exists as a tangible index of the emails, a mini compendium of the writers, artists, activists, theorists, individuals, and souls, highlighted in the project thus far.
Written by Jennie Goldfarb
Designed by Jen Shear | jenshear.com